Both platforms are able to cover the needs for the different existing approaches and their characteristics, however we are going to focus on those characteristics where the differences can appear:
Student-centered
Content-centered
Teacher-centered
Massive-access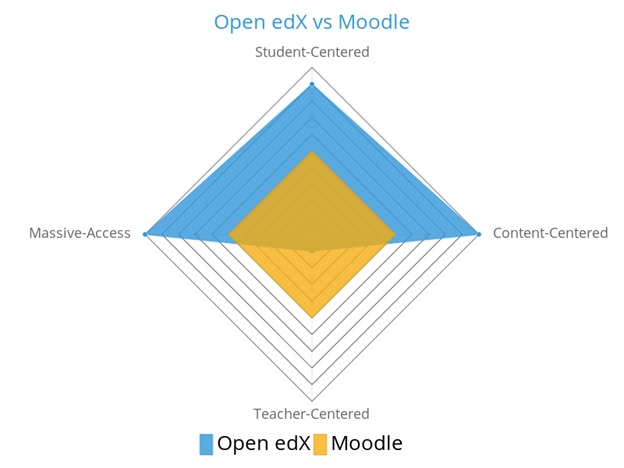 Conclusion
Functionality is not so important! Both platforms offer plenty of functionalities, activities, plugins/XBlocks and huge communities supporting them. You will always be able to use them to cover your needs, but choose the platform according to the needs of your educational approaches, and also, your business model. Are you a modern user seeking a big audience or are you a traditional educator seeking a standard classroom experience online? Moodle is the right choice for folks who aren't concerned with how the platform looks, but care a lot about the K-12 audience, and feel more inclined to create traditional experiences.
However, if you are looking for something that has a more updated feel, that is geared for a massive user-base, and something that has a lot of versatility and flexibility, then Open edX is the right choice for you. The Open edX platform was created to evolve over the digital philosophy of teaching and learning by implementing MOOC. It has not been thought to pursue a traditional teacher-centered approach, rather it impowered the Institutions.
Open edX is mature enough to form part of the most important universities in the world and has a huge and important community behind it. If you want to get massive capabilities you'd better choose Open edX.
Open edX
All about Open edX